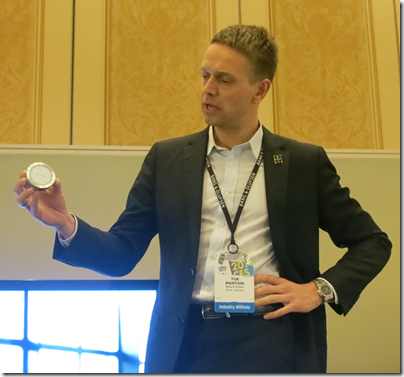 Bang & Olufsen's Tue Mantoni shows the new Essence controller
By how much can you simplify home audio? Long-established Danish company Bang & Olufsen reckons that the essentials are play, pause, volume, next and previous. The Essence controller is designed for wall mounting, or there is a tabletop version, and has just these functions. The goal is to make listening to music as easy as turning on the light. The company demonstrated the new system at the 2014 CES in Las Vegas.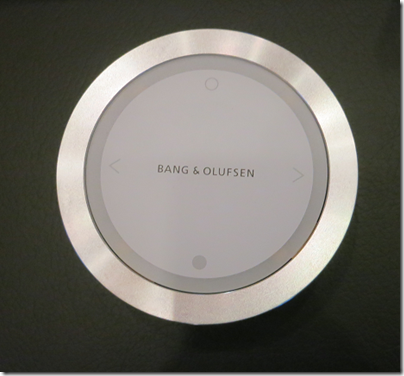 Other functions, such as choosing what music to play, are considered "Advanced."
The brains of the system are in the controller box, which supports Apple AirPlay streaming, DLNA streaming, Spotify, QPlay, and internet radio. DLNA support means you could use it with other systems such as Logitech Media Server (formerly Squeezebox server) .

The rear view shows the connections:

You control the box via an app BeoMusic, which runs on Apple iOS or Google Android. I asked whether you could use a web browser if you happened not to have an iOS or Android device, and was told no. Windows Phone users, this is not for you. Box and remote together cost $995.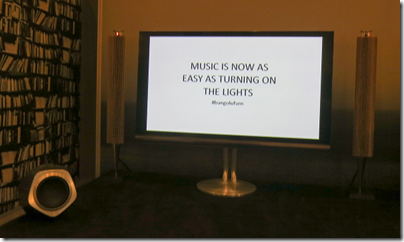 Another part of B&O's drive for simplicity is wireless speaker connections. The company is supporting a standard called WiSA which delivers up to 24/96 digital audio for up to 8 channels. Naturally this only works with powered speakers, so each one still needs a mains cable. You can use speakers that lack WiSA support by purchasing a receiver ($265 or £165) for each one.
The demo system we heard at CES included Beolab 18 active loudspeakers and a Beolab 19 subwoofer, both running wireless with WiSA. At $6,590 for the main pair and $3,395 for the subwoofer, this was not a cheap system.
I thought it looked lovely, but my face fell when the music started playing. The sound was decent but not the most natural I have heard, and I felt there was a trace of harshness at loud volume.
I doubt the sound quality is a limitation of WiSA: I visited the WiSA demonstration later on at CES and it sounded fine. I will add that the demonstration was brief and it is possible that in another room or with some tweaking the system would sound as good as it looks; but first impressions were disappointing.